Yeah, sorry, I know. This post isn't going to be a huge article with me insulting kids. And its probably just going to be about random things I can think off the top of my head. But I just can't write 5-star articles EVERY day, and also try to include that I have school tomorrow and I've been working on freaking math all night. But the little hamster running the wheel in my brain will give you what it can.
- So I went to the store and bought some Cokes, right? Well, take a look at it...

Even though the glare kind of covers it, instead of Coca-Cola it says Koka-Kona. As in its in Russian. I guess Coke is doing some Olympic collection of 5 different languaged Cokes. Pretty intense. Speaking of soda cans...
- Dr. Pepper is promoting the new Indiana Jones movie. So their cans have a picture of a character from the
CGI fest of a movie
(which, actually to be fair, wasn't that bad). I got one with the kid from Transformers...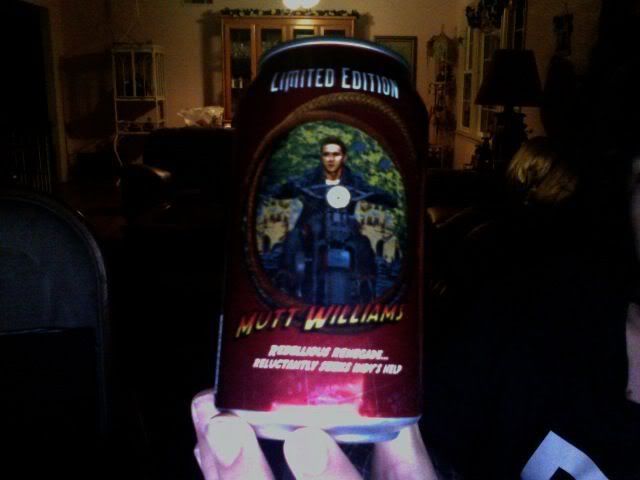 Optimus Jones... I'm so clever.
I love Dr. Pepper. But now I while I drink, I can read this engaging description about Mutt:
"REBELLIOUS RENEGADE... RELUCTANTLY SEEKS INDY'S HELP".
...In the movie hes actually not that rebellious. At all. But that's marketing for you I guess...
AND SPEAKING OF INDIANA JONES...
- Today in Disneyland the kicked off the "Summer of Adventure" with Indiana Jones running everywhere. Just for the record, I love Disneyland. Its my favorite place ever because I can't ride/don't like roller coasters. Bleh. But even if I did, I can't go a year without mouse ears and pineapple whip.
In this picture, Indy readys for his ROUNDHOUSE KICK.


Wha
t they did was make random Indy "events" for Adventureland, where at any given time, they'll have some bad guy and Henry Jones Jr. fight on buildings, in the Rivers of America, or on the Tarzan Treehouse bridge. They also give out maps to find clues for the treasure of - wait for it - FREE COMPUTER WALLPAPER. Also, they replaced Aladdin's old storytelling oasis crap with that
Jedi Academy thing
they do in Tomorrowland, only they find treasure and go through how Harrison Ford hates snakes. I bet the kids will think its fun, but the show looks really lame.
SPEAKING OF BEING LAME...
- New
Mega64
video today that made me laugh. Just watch it, and if you have my sense of humor, you WILL laugh. Just keep waiting for it...
They make fun of video games and stuff. I love it, maybe you will too. They have a new podcast every Tuesday, so check it out tomorrow.
Well, thats all I have for today. Tomorrow I'll have a freaking awesome post... but you'll have no idea what it will be about =P.
...I hate snakes.